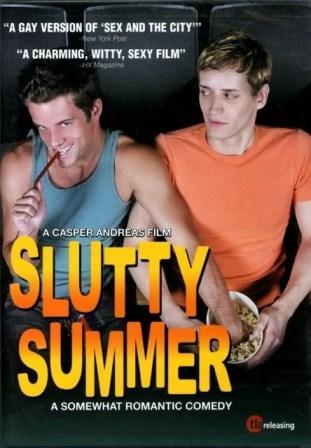 A series of reviews of earlier works by triple-threat producer/director/writer Casper Andreas of the (
Unreal TV reviewed
) pink noir film "Kiss Me, Kill Me" continues with a look at the tla releasing DVD of the 2004 gaycom "Slutty Summer." This film, which stars producer/director Andreas, exposes the minds of the 20-something gay single man of the era. The arguably most important thing to know about this movie is that anyone who either is or knows an idealistic young man with hopes of meeting a Prince Charming with a desire to buy a bungalow and jointly raise two and/or four-legged offspring should watch the harsh truth that Andreas portrays.
The following YouTube clip of the moderately explicit "Slutty" trailer accurately showcases the good humor and themes of the film but provides a new-wave vibe that the highly entertaining film seems to lack. A shot in which a kiss intended for the lips is deflected to the cheek is a we have all been on both sides of that moment scene that shows that Andreas knows that of which he writes.
"Slutty" opens with published novelist/boy-next-door type Marcus (whom Andreas plays with great insight) coming home to find live-in boyfriend naked in what can be politely described as the yin and yang position with another young man. The expected stereotypical response of the boyfriend is every bit as amusing as similar scenes in movies in which a young man uses the excuse that he is not gay to avoid kissing a peer with whom he just engaged in am unrestrained sexual act.
The trauma prompts the abruptly single Marcus to join the wait staff at the New York restaurant where his fag hag straight friend Marilyn, who also is seeking true love, works. Their co-workers include well-portrayed central casting types.
Manager Kevin is high-strung and unduly neurotic about things such as strict punctuality and exactness regarding sugar and sugar-substitutes, but has a poorly concealed crush on restaurant stud/slut Tyler. Andreas awesomely pays homage to the 1999 Mike Judge film "Office Space" in creating Kevin, but sadly leaves out references to flair.
Andreas regular Jesse Archer plays gorgeous and friendly Luke, who uses the titular three months to try to gently teach Marcus the realities (which include the near impossibility of a committed relationship) of being an attractive 20-something gay man in New York. The final member of the group is quasi-outsider Peter, who is less friendly than his co-workers but likable enough to warrant sympathy when Luke plays a cruel practical joke on him.
"Slutty" can be considered a variation of the 2006 gaycom "Another Gay Movie" by "Edge of Seventeen" writer Todd Stephens in that our boys and their hag all embark on or seek summer romances or hookups. The central story has Tyler looking for Marcus to be another notch on his well-carved bedpost, and the latter feeling an attraction but wanting to avoid encounters with someone who is merely Mr. Right Now (or just the object of his erection).
Tyler and Marcus begin their "its complicated" relationship with an amusing seduction that is straight (pardon the expression) out of less respectable gay-themed films. This leads to physically and emotionally satisfying encounters that prompt Marcus to want more and Tyler to want to make his man happy. This aspect of the film leads to discussions, which include the circumstances under which having sex when you meet someone can blossom into a relationship, that gay men across the globe have verbatim.
A related scene that harkens back to the Clinton era has all the waiters hilariously discussing the definition of sex. The pointed-out contradictions alone make this segment must-see and nicely highlight the clever writing that Andreas contributes to all his films.
For his part, Luke is dating a college boy whose naivety clashes with the more experienced/jaded/realistic (?) outlook of this pink Archer. The amusement of Luke regarding this young man having to go home early because of schoolwork is charming.
Aspiring actor Peter contributes humor in the form of his delusional self-image and his hilarious personal ad. He further does not win friends or influential people regarding his predatory work habits.
Meanwhile, Marilyn provides a straight perspective regarding her search for a nice-looking and kind man. Much of this effort supports the theory that all the good ones either are married or gay.
All of this occurs under the not-so-watchful eye of Kevin, who is the Mr. Belding to this rambunctious group of kids.
The realistic cynicism peppered with equally plausible hope for happily ever after (as opposed to merely a happy ending) makes "Summer" a good film for every gay man. As openly gay actor Tuc Watkins states in a
recent Unreal TV interview
, gay men have different experiences than their heterosexual peers; Andreas entertainingly conveys that from the perspective of one who has been there and apparently has done him (not Watkins).
The DVD special features add a great deal to the experience of the film; the outtakes are a blessing and a curse in that they show Andreas and the cast (who truly do a good job in their roles) more relaxed with each other than they are on screen. A highlight of this is an embarrassed Andreas charmingly apologizing to Tyler portrayor Jamie Hatchett after slightly injuring him during a sex scene.
We also see charming Archer conducting man-on-the-street interviews in which he asks passers-by whether they are sluts. The responses often are just as delightful and fun.
The good folks at tla additionally provide deleted scenes, copious screen tests, and commentary by Andreas.
Anyone with questions or comments regarding "Slutty" is encouraged to
email
me; you also can connect on Twitter via @tvdvdguy.